GONE, BUT NOT FORGOTTEN!
MILLIKAN TEACHERS/ADMINISTRATORS
There are many names which have little or no information listed beneath them.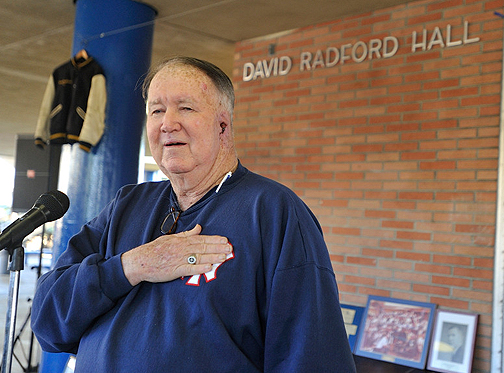 'Mr. Millikan' Dave Radford passes away
Millikan High graduate and long-time teacher David Radford addresses visitors after being surprised with a building named after him on March 13, 2012.
A REMARKABLE LIFE | DAVE RADFORD | 12/22/1938 – 11/6/2017
"It's not often that one person can become synonymous with an entire high school, but for the last 60 years that's what Dave Radford was with Millikan. The beloved East Long Beach institution and former Millikan student, coach, teacher and mentor passed away on Monday at the age of 78.
"Dave Radford is the glue that held so much of the Millikan tradition together," said Rams boys athletic director Kevin Marchael. "He was so involved in so much of our history—the tradition he built will last."
Radford was a member of the school's first graduating class, served as the school's first class president 60 years ago and became the first member of the Millikan Hall of Fame. His letterman jacket is the one on display on campus. And the building at the center of the school is named after him: David Radford Hall.
As a member of the school's first class, he craft the school's identity. Radford helped pick the school's mascot and colors and named its yearbook "Aries" and the newspaper "Corydon."
Radford was a multiple-sport standout. He was the starting center for the Rams' football team and hiked the first-ever snap in school history.
"Every time you did something it was the first, like making a new culture," he wrote in the yearbook decades later. "We were able to create our own class just the way we wanted it."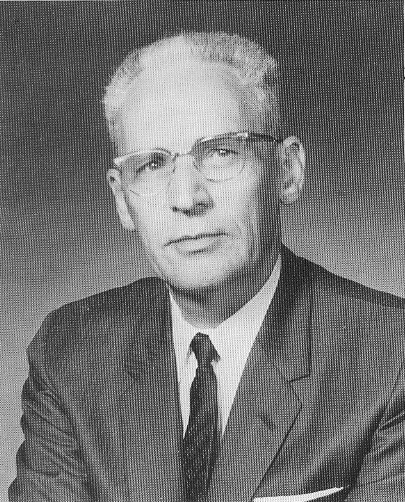 Eaton O Bemis, Millikan's Principal 1956-1967
Courtesy of Rick Bowman: Mr. Bemis spent 25 years in the Long Beach School system, beginning at Franklin Junior High School. Two years later, he moved to what was then the Lakewood School District, where he worked until that district merged with Long Beach in 1945. He worked as principal of several Long Beach high schools and in 1956 was asked to head Long Beach's newest school, Millikan where he stayed until he retired in 1967. He moved to Leisure World, Seal Beach, where he lived until he died on October 11, 1993. He was 91.
EATON O. BEMIS
PRESS-TELEGRAM Published on 10/15/1993,
MILLIKAN'S 1ST PRINCIPAL WAS INDEED A MAN OF PRINCIPLE
Eaton O. "Curly" Bemis was brought up believing you couldn't play
marbles for keeps, and his moral standards only grew higher from there.
A respected Long Beach school administrator for many years, and the first principal of Millikan High School, he set standards for students and teachers that haven't been topped to this day.
He was 92 when he died on Monday, and still had a fine shock of the
thick, curly hair that gave him his childhood nickname.
RUBY BEMIS (wife of E.O. Bemis)
PRESS-TELEGRAM Published on 1/23/1998
RUBY BEMIS LOVED LIFE AND STORIES
FORMER AIRCRAFT INSPECTOR HELPED ESTABLISH SEVERAL LOCAL SERVICE GROUPS.
Being born in 1900 meant Ruby Bemis saw a lot of firsts: While still a
child her family had the first electric light in the town of North
Manchester, Ind. And when horseless carriages came in, her dad opened the first Ford dealership in the state.
But as an adult, Ruby didn't just watch from the sidelines as history
happened. She and her late husband Eaton O. "Curly" Bemis, were
outgoing people, and during the baby boom years they helped shape Long Beach and Lakewood.
ERNEST S. BECKETT
History teacher at Millikan High School for 34 years, and retired in 1993. He passed away June 20, 2002 at age 65. Survived by his loving wife of 43 years, Margaret Anne Beckett. Father of Paul Beckett, Susan (Michael) Kirby and Peggy (Jerry) Wilkins. Grandfather of Connor Michael Kirby and Cole Beckett Kirby.
Published in the Long Beach Press-Telegram from 6/25/2002 – 6/26/2002.
ROBERT W. BOWER (Choir and Music)
Music teacher at Millikan; died  October 28, 1999.
Andrew Friedman Class of '78, "Tevye" in Fiddler on the Roof, May 1978, submitted the following:
Robert W. Bower was the Choral Director at Millikan High School since the school opened its doors. During his decades at Milikan, Mr. Bower changed the lives of hundreds of students (I was one of them; he saved my life) and provided special memories that will never be forgotten. Every year, Mr. Bower would choose a Broadway musical for his students to perform; he would cast, direct, and produce each show to standing ovations and packed auditoriums. He was not just my teacher, my director and my mentor, he became over the years a cherished friend. Teaching wasn't a job to Mr. Bower, it was his life and his great love. Mr. Bower helped students from all walks of life find joy and fulfillment in music, and we found talents we didn't realize we had. He was a great man and an inspired teacher who will never be replaced. I am grateful that I was able to see him days before his passing, and tell him that he made a difference in my life and the lives of an entire generation of kids. Our loss is heaven's gain.
From: Patrick J. Haney '60
I knew Bob pretty well, having been a member of Alpha Theta Chi (he was the faculty sponsor), as well as being in the orchestra and a participant in some of the joint vocal/instrumental presentations over which Bob presided.  After graduation my wife and I always made it a point to visit him at his home in Seal Beach whenever we were in California, our last visit being shortly before his death.  (In fact, he even came to visit us once when I was stationed with the AF in England, and once in Florida during my "second career" at a community college there.)  He was quite a character, and I think of him often.
DONALD D. BUSH
PRESS-TELEGRAM Published on 11/28/1992
DONALD BUSH LOVED TEACHING
DEVOTED HIS LIFE TO HIGH SCHOOL STUDENTS
Donald D. Bush adored animals and dreamed of being a veterinarian, but he became a teacher instead. For no matter how much he loved animals, Donald loved people more. Donald taught at Long Beach high schools for four decades. He chose this career over two others that might have brought him more glory – law and journalism – because he thought high school-age children were simply the best people in the world.
Sarah Jane Carty
"In 1961, she went to California and enjoyed a 30-year teaching career in Long Beach, where she served as head of the English Departments, first at Millikan and later at Jordan High School. Ms. Carty was a brilliant and dedicated teacher who made a positive difference in the lives of many of her students, some of whom remained in touch with her throughout her entire life. Sarah received her Master's Degree in English from California State Long Beach in 1967, and pursued her doctoral studies at UCLA."
Mr. Dennison (Architectural Drafting) passed away in February 2014.
I was in Jim Dennison's class in 1979, I graduated in 1980 and I'm grateful to have had him as a teacher. Thank you for your time and commitment to this page. All the best!
JOHN C. GLOVER (Languages)
Retired in 1976 and moved to San Mateo. He died there at age 78, on Christmas Day, in 1997. He is buried at Westminster Memorial Park.
JOHN B. GUNNING (Science)
Hi, I'm Fred Ackley, Class of 1963. I just stumbled across the Millikan website. I see that John B Gunning is listed on the /Gone But Not Forgotten/ page. John "Jack" Gunning taught chemistry in the 60s. He profoundly touched the lives of many students, myself included. Each spring he would gather a large group of students, sometimes dozens, and take us camping for a full week in the Arizona desert. It was always a wonderful, coming-of-age, experience, and kept us all out of trouble during spring break. He also took a group of us to the Seattle World's Fair, with stops along the way to hunt rocks and learn about the world. He was an avid skier and met his wife on a ski trip to Aspen Colorado. He wore cowboy boots to class almost every day. It was his trademark. He claimed he wore them to alleviate heel problems. I always suspected it was just because he liked them. Jack Gunning was a great teacher, mentor, and friend to his students. I'm sorry to hear he has gone.
JOHN O. JENKINS, Art & Golf Teacher at Millikan from 1957 To 1981. Died at 82, January 9, 2001
"During World War II, John was a Navy pilot, serving two tours of duty and rising to the rank of lieutenant. He won many commendations, including the Navy's highest medal of honor, the U. S. Navy Cross." From the Long Beach PRESS-TELEGRAM 1/15/01
John O. Jenkins began teaching in the Long Beach Unified School District at Poly High School, but transferred to Millikan when it opened.  He taught art and stage design and assisted with the golf team there until his retirement in 1981. (He also taught some Art History classes at Long Beach City College in the evenings.)  His love of golf, art and art history coupled with his quick wit and sense of humor continued until his passing in 2001.  He is survived by his wife, Eloise Jenkins (who taught elementary school in the Long Beach School District), his 3 children who all attended Millikan–Judy Jenkins Onulduran (Class of 1963), John Jenkins, (Class of 1967), and Gwynne Jenkins Anderson (Class of 1968), and many grand and great grandchildren.