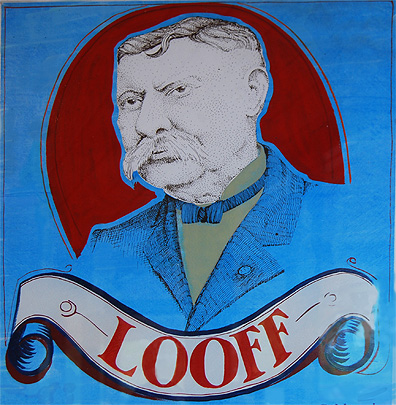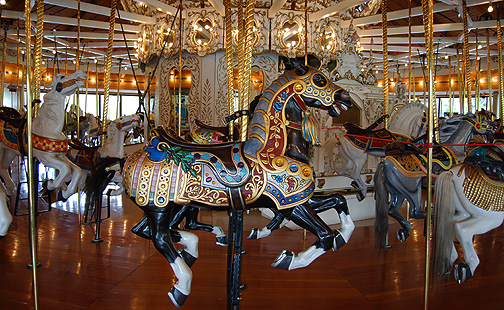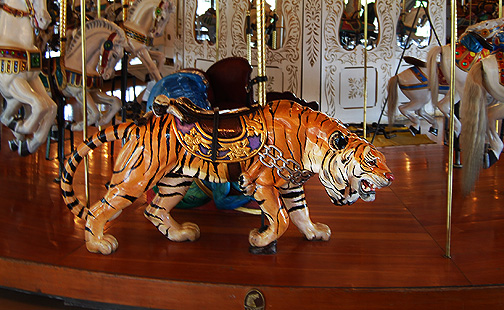 Spokane's Riverfront Park's 1909 Looff Carrousel is on the National Register of Historic Places and is one of America's most beautiful and well preserved hand-carved wooden carrousels.  The Looff Carrousel features 54 horses, 1 giraffe, 1 tiger, and 2 Chinese dragon chairs.  It can also accommodate wheelchairs.  Charles Looff, a master craftsman, created the Carrousel as a wedding gift for his daughter, Emma.  One of the most amazing parts of this whole story is that this Looff Carrousel has been in operation for over 100 years.
Charles I.D. Looff
Born May 24, 1852, Schleswig-Holstein; died July 1, 1918, Long Beach, California
Originator of the Coney Island-style carousel, Charles Looff is considered to be the first of the great American carousel manufacturers.
Looff settled in Long Beach in 1911 and lived above his carousel at the Pike. Later, Looff operated carousels and major amusements at Santa Cruz, Santa Monica, Redondo Beach, Venice, Ocean Park, and San Francisco. He built the Santa Monica Pier, was a major contributor to the Santa Cruz Boardwalk, and was the founder of Playland in San Francisco.
The original Long Beach Looff carousel built in 1911 burned to the ground in 1943.  Its replacement, a makeshift mechanism, remained until the demise of the Pike in 1979 and was sold piecemeal.
Even the "I.D." in Charles I.D. Looff has a story. He was born May 24, 1852, in Schleswig-Holstein and immigrated in 1870.  A Ellis Island official told Looff he had to have a middle name 'for his I.D.' (or identification), so he chose "I.D."
Email from Richard Olson 5/5/07
As you probably know, Al Brown was one of Looff's best friends and worked with him on the Pike for years.  After Looff died, Al kept the Lite-A-Line going at the far end of the old Pike in the circular building with the great Looff's neon sign on top.  Al died a few years ago.  His oldest son, Leonard, just died a few days ago, and another link to the Pike has come to an end.  Leonard was one of my best friends–he went to Poly, Class of '53, and I went to Millikan, Class of '62–and we used to have great talks about the Pike, and even Shady Acres, which was run by Looff's son-in-law. 
Richard Olson
Hi Paul,
I had emailed you some time ago about Albert S. Brown's son, Leonard.  Since then, Leonard has died from cancer and I am afraid that everyone who really knew the true story of the Pike has expired.
When Leonard died, his widow gave me a few of his Pike mementos.  After the Pike closed, the Independent/Press-Telegram sponsored some type of brick program in 1981, and I have Albert's brick.  Unfortunately, the ink on his name has washed away somewhat, but it is still legible and I am attaching a copy for you to use or put in your files.
Leonard also visited the warehouse and got me a special treat.  As I understand it, Looff's daughter's husband ran Shady Acres, my favorite miniature golf course.  Leonard got me a couple of putters, score cards, and balls.  He also got me some of the rings from the old merry-go-round and some other small things.  At one point, several years ago, I thought I was going to get the Looff's sign on top of the Lite-A-Line building, but that didn't work out.  An historical group finally got it with the promise it would be displayed along with other memorabilia in a new Pike exhibition.  Sadly, I don't think they were able to complete that project.
One last item for you.  Apparently Looff was either involved with, or developed an amusement park with, gambling in Seal Beach in the early 1900's.  I didn't even know that a Seal Beach park existed until just a few years ago.
Keep up the great work!
Richard Olson
Millikan '62